As you might now, I'm passionate about water and our relationship with it. Through that, I've been involved in designing and installing Greywater systems for a while now. The more I learn, and the more people I meet, the more apparent it becomes that we need to approach the drought from as many, sustainable, angles as possible. I want to emphasize sustainable, because as Albert Einstein put it "We can not solve our problems with the same level of thinking that created them."
With that in mind, I will be delving deeper still into the world of water. One way, is attending the Water Harvesting Design Certification course from the Watershed Management Group in Tucson, Arizona. This will cover the design and installation of rainwater harvesting landscapes, rooftop rainwater catchments and greywater systems. All with a holistic approach to land design and management. I like the format as it requires the attendees to read 3 books on the subject before even starting the course. Armed with this knowledge, I'll be expanding the services I offer and talking way too much about water and how to better use it. I hope to find interested audiences, because there is only so much Erin can take :)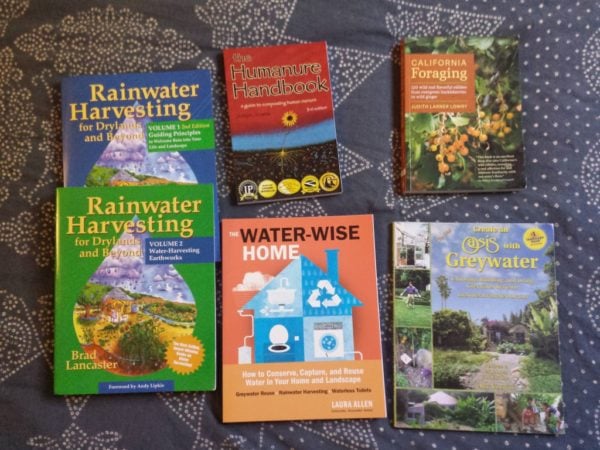 Another new aspect of my contribution to water awareness is a collaboration with GreywaterAction. I met Laura Allen ( Greywater Action's co-founder) when I took the Greywater Installers Certification course. I have now started to work with them as an instructor for the Greywater Installers Certification and will also be running workshops throughout the Los Angeles area. Some of these will be in collaboration with the city of Pasadena starting in September and running monthly for most of 2016. It should have quite the turnout and I hope it spreads the grewyater interest, and acceptance, even further. Maybe I'll see you there.
That's the water related update… As for what else might be down the pike, look at the top right book on the picture above for a hint.
How is the strengthening drought treating you, and what plans do you have to address this?