As you might have read on the Greenman Project FaceBook page, I have been at Dancing Rabbit Eco village in Missouri. I am visiting good friends for a month and participating in a workshop to build their timber frame, more specifically roundwood, home.
Missouri, unlike California, has no building codes to speak of, so here at Dancing Rabbit there are many very well made "alternative" buildings. I recently took a tour of some of the newer construction and it was full of very interesting concepts. Lots of wood frames insulated with straw bales is the way to go here. It gets really cold in winter so cob would not be a very good choice.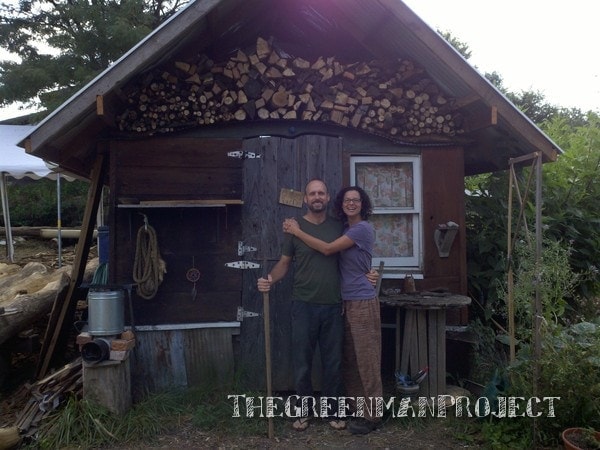 My friends Illly and Rae sourced some black locust timber for the workshop. We found out later it is one of the hardest woods in America. Needles to say, I have been getting a good work out.
The trick with round wood construction seems to be visualizing a square out of the round timber. You do this by making four chalk lines, length wise. This creates two planes that if looked at either end of the log would look like an X.
But I'm getting ahead of myself…. I'll give you a brief description of the process.
Some history before the timber frame info. This is the old site of the Wabi-sabi kitchen. Dancing Rabbit has sub-communities where people cook together, share meals and cleaning. This reduces the need for every structure to have a kitchen of it's own and also brings people together. This kitchen never got completed and my good friends Illly and Rae picked up the location. Now with the help of the original builders April and Ziggy of Year of Mud we have our selves a roundwood timber frame workshop to turn this into a home.
First order of operation is to remove the bark layer from the wood. This is where most of the insects will lay their eggs and rotting occurs.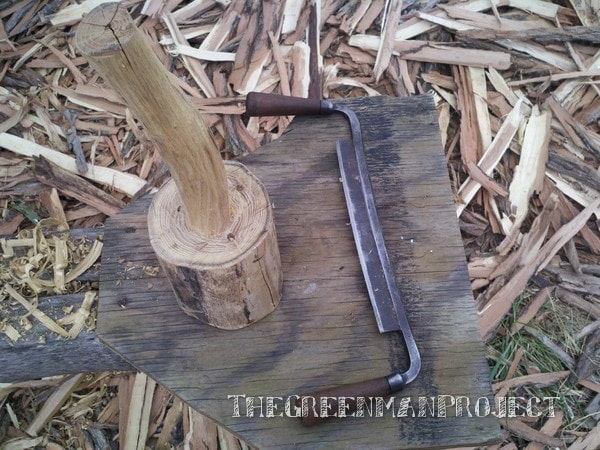 Using a draw knife is the way we did this. It took me about half an hour or so to do one log, I did not clock my self so it might have been longer.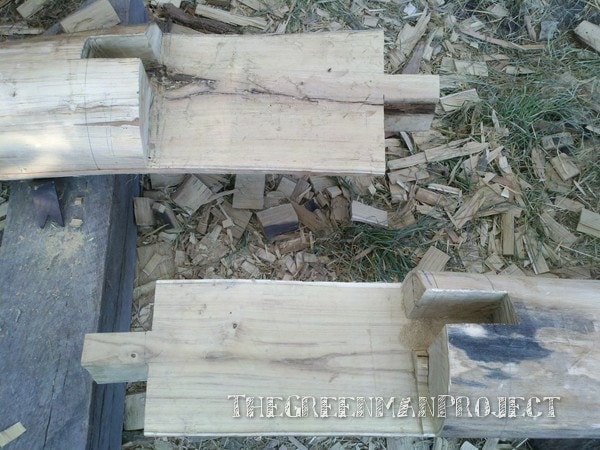 This is some of the joinery that goes with timber framing. It is complicated by round wood but is just the same. The first one is a tenon that will go into a mortise. These are used mostly to create perpendicular joinery. The second is an interlocking scarf joint. These extend the length of  horizontal timber to what otherwise would be unavailable.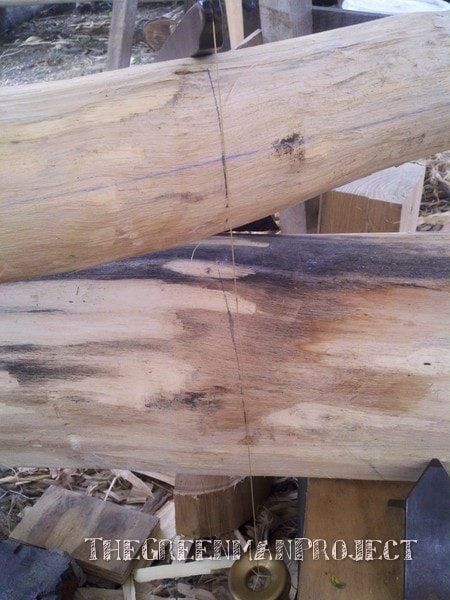 I am not doing any justice to scribing here, but it's better than nothing. Scribing allows you to transfer a line from one piece to the other. This in turn facilitates creating more complex joints for bracing.
This is the rigging used to raise walls. We used a gin pole for lifting up the walls after they are put together. Again, there are many more ways to do this and explanations could be more thorough. What do you expect? This was my first timber frame workshop…
Here are some more images to fill in the gaps and some stragglers: